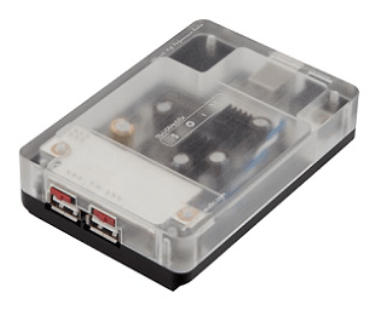 tx-USBhubEx (external)
The tX-USBhub can substitute for the functions of tX-USB or tX-USBexp when connected to devices such as the Note PC, Mac mini and NUC board (no PCI or PCI express slot).
The tX-USBhub is an "Audio USB 2.0 Hub" designed and developed solely to achieve high quality sound for USB audio devices, employing the same technologies used in the tX-USB and tX-USBexp, which provide the excellent sound quality unequaled by other conventional USB hubs.
Ultra Low Noise Regulator: extremely low noise power supply circuit, to minimize the noise generated from the power supply circuit
Ultra Low Jitter Clock: super-precision clock circuit improves the sound quality by reducing any audible jitter
Active Noise Canceller: stabilizes the clock frequency vibration caused by the voltage variations to produce the best sound quality
2nd stage power regulator for highest sound quality
USB port power on/off switch for highest sound quality
USB port signal noise filter for highest sound quality
High performance capacitor for improvement sound quality
USB port power over current & thermal protection for safety operation
Two USB ports come standard, allowing for tX-USBhubIN (for installation inside of PC enclosure) and external type tX-USBhubEX (for standalone operation).
Consider pairing with a premium quality battery based power supply for even better audio performance.
 Key Features:
-2 ports USB hubUSB
-power ON/OFF switch
-External power input
-For the best USB audio performance
Specification:
USB host interface
  3 pins internal USB signal connector
  Connecting to the computer main board USB header by an internal USB cable
USB output Ports
  Type A USB 2.0 connector x 2
  USB power on/off switch
USB interface chip set
  USB 2.0 Compliant HUB controller
  HS(480 Mbps), FS(12 Mbps), LS(1.5 Mbps) support
Internal power input
  Input voltage : +12.0V(+0.5V, -0.5V)
  Input current : 2A max
  15pin SATA power connector
External power input
  Automatic external power selection
  Input voltage : +6.5V ~ +9Vdc
  Input current : 2A max
  5.5mm OD, 2.1mm ID adaptor jack
USB port output power
  Output voltage : +5.0V(+0.5V, -0.25V)
  Over current protection : 0.8A at 20°C
  Recommend output current : 0.5A >
Operating environment
  Operating temperature : +10 ~ +30℃
  Storage temperature : 0 ~ +40℃
  Operating & storage humidity : 10% ~ 90%