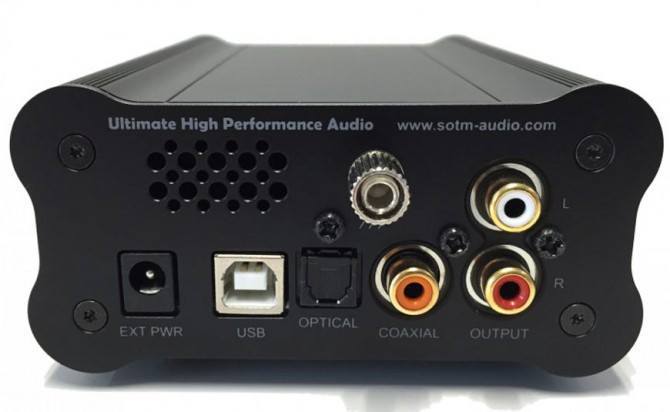 sHP-100 DAC/Headphone Amp
The SOtM sHP-100 is a combined USB DAC & high performance headphone amplifier. The unit supports USB, Coaxial, Optical and Analog line input and has headphone output as well as analog line output.
The DAC has a line output select switch on the bottom side of the unit, so you can set the analog line output to the variable line output or the fixed line output. If you set to the variable line output, you can connect the unit to power-amplifier and control the analog line level by the volume control knob on the front side of the unit. If you set to the fixed line output, you can connect the unit to a pre-amplifier or inti-amplifier.
The headphone output can be controlled by the volume control knob or the headphone impedance select switch. With the 3.5mm stereo line input jack on the front panel you can use the unit as a headphone amplifier or pre-amplifier by connecting the unit to your smart devices or portable audio player.
AK4113 Dir chipset of AKM for Coaxial and Optical digital input and supports 24bit/192KHz playback
For USB input, it supports 24bit/192KHz PCM and DSDx64, x128 playback through multi core RISC processor by XMOS and also USB audio class 2.0.
Digital input sources translate via CS4398, Flagship DAC of Cirrus Logic to analog signal and output via LME49720 & TPA6120A2 of TI – some of the best audio OP-AMPs & headphone amps.
Minimizes distortion of audio signal by the volume control circuit using exclusive audio variable resistor of ALPS.
For the high quality power supply, ULNR(Ultra Low Noise Regulator) is used for digital & analog circuit.
Extremely Low Jitter Oscillator and Active Noise Canceller for clock circuit.
The unit doesn't need the extra power supply since it can run via USB power only, but will perform even better with mBS-d2s battery power supply.