ROSE RS201 Media Center DAC 32bit / 384kHz with amplifier 2x50W
 ROSE RS01
Audio/Video 4K player with amplifier / DAC 32bit / 384kHz DSD256 
A true high-end Media Center. The RS201 is a Audio / Video player with integrated DAC ES9018K2M,  volume control and a 2x50W power amplifier. To offer a complete experience, the device also has a 4K video processor on HDMI output and its own multitouch display.

The unit provides by itself every function one can expect to find in a full stereo system while offering a high level of audio reproduction in an extremely compact housing. Furthermore, its generous input / output pannel backed by large wireless connectivity allow many possibilities of integration: each stage (playback / digital-analog conversion / power amplification) has its own output.

The RS201 will be very useful, should it join an existing audio system or fulfill the function of the whole audio installation by itself.
It is also possible to disable the entire analog part of the device in order to use it as a pure drive.
DAC SABRE ES9018K2M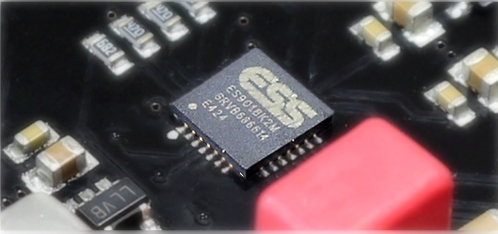 The digital / analog conversion stage works with a SABRE ES9018K2M chip. This 32bit DAC model supports PCM files up to 384kHz / 32bit with native DSD support up to DSD256 (11.2MHz).

The DAC is integrated following a design intended to make the most of the couple DAC / amplifier chip. The groundings, internal wirings and even the potential vibration of the mechanical parts have been studied to optimize the accuracy of the sound, which considerably refines the channel separation aswell as in lowering the noise and distortion. This results in a very advantageous rate THD of 0.004% measured in speaker output and 0.0018% terminal on the preamp output.

Like all SABRE chips, the integrated DAC in RS201 is equipped with Hyperstream II technology and benefits from its specific algorithms signal reconstruction and an active decorrelation noise / signal.

ESS technology brings Time Domain Jitter Eliminator to RS201 decoding process, which effectively prevents digital noise from being sent to the power amplifier. 

Most important, the DAC SABER ESS chips have internal DSP control function which allow a smooth digital volume control. That is to say that the interface offers the comfort of a digital volume control (remote control from multiple media, touch screen / remote / external application).

On the one hand ESS SABER chip is connected to a preamp output for driving directly an external amplifier. On the other hand, it is connected to the internal amplifier (Texas Instrument PurePath 2x50W). This additional output delight will please audiophiles wishing to easily reroute the signal to an auxiliary installation (home cinema system or tubes amplifier for example).
Interface & touch screen multi-touch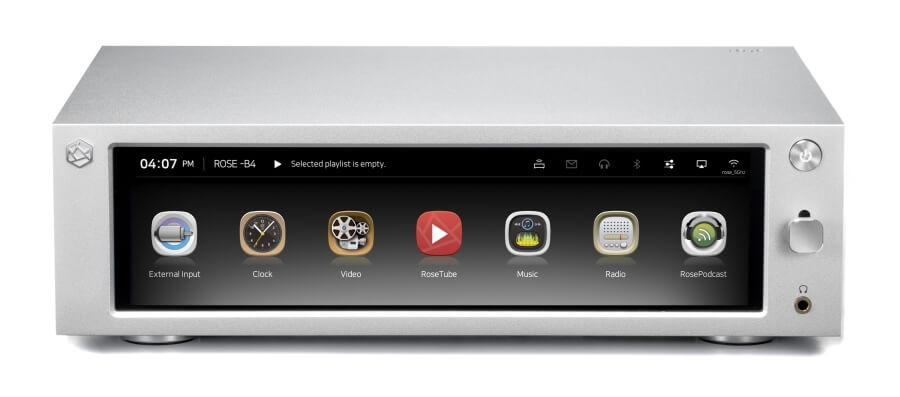 The RS201 offers several ways to control the fully configurable playback settings.

The Media Center runs on an Android OS 7.0 (nougat) controlled using a large multi-touch 8.8-inch touchscreen (1920 × 480px) directly accessible on the front pannel. This provides access to all functions while remaining as intuitive to use as our everyday's smartphone or a tablet.

Naturally, when not used for control, the screen is available for displaying video, metadata of your audio tracks (sample rate, title, album art ... etc) or any required settings for playback (volume, forward, repeat, playlists ...).

A bluetooth remote control (provided with the RS201) allows the user to remotely control all playback parameters.

Finally, the free application ROSE Connect will turn any smartphone running iOS or Android to a remote control for the RS201 via a home network.
Extended connectivity


The device has a stereo line input (RCA), a Toslink input, two USB inputs (USB 2.0 and USB 3.0) and a micro SD card reader.

Media stream may equally well circulate via home network through an RJ45 port 10/100/1000 BASE-T and high speed WiFi connectivity 802.11 b / g / n / a / ac (2.4GHz / 5GHz).

Bluetooth (V4.0 / V3.0 + HS) is available as well for all cases requiring a one-time connection with a third device.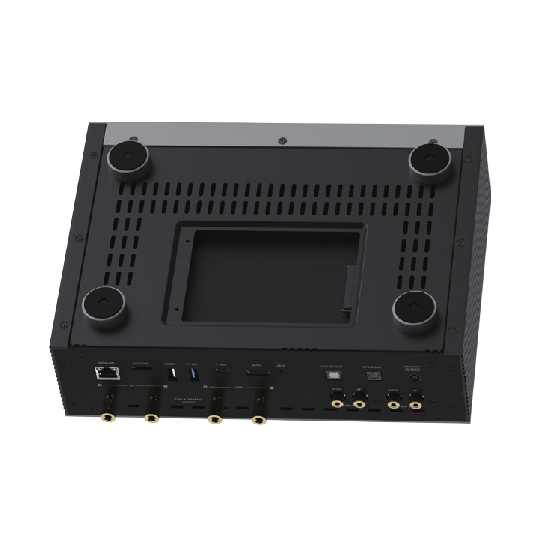 SSD 2.5" Slot

To go even further and directly integrate real NAS function to the RS201, the device bottom has a slot for an SSD 2.5".

It is therefore possible to add a high-speed storage and high capacity in the heart of the device.
The ROSE-201 offers a direct DAC output to bypass the integrated amplifier and out to another system.

Headphones fans will enjoy a high quality headphone output (sharing the decoded signal of the DAC) 3.5mm format, on the front panel

An additional Toslink digital output allows to exploit the integrated NAS function with other decoding devices.

HDMI 2.0 connector provides audio / video with resolutions 480p / 480i / 576p / 576i / 720p / 720i / 1080p / 1080i / 4k (max resolution: 4096 × 2160).

Finally, the amplified signal is sent to the stereo speaker terminals (R- R + / L + L). Meaning, the device is already reday to use once it has been connected to the speakers.

It is possible to supply a secondary devices with an auxiliary power supply output 24 VDC 5A.
video capacity
With Android operating system, video support is done with ease. Like a smartphone or tablet, simply install the video playback application of your choice from PlayStore to take advantage immediately of 4K video.
Integrated amplifier PurePath


The circuit comprises an integrated amplifier Texas Instrument PurePath 2x50W into 8 ohms.

Is already enough power for up to power standing speakers as well as bookshelf speakers. The RS201 can then add sonorize a moderate-sized listening room.



CD Ripper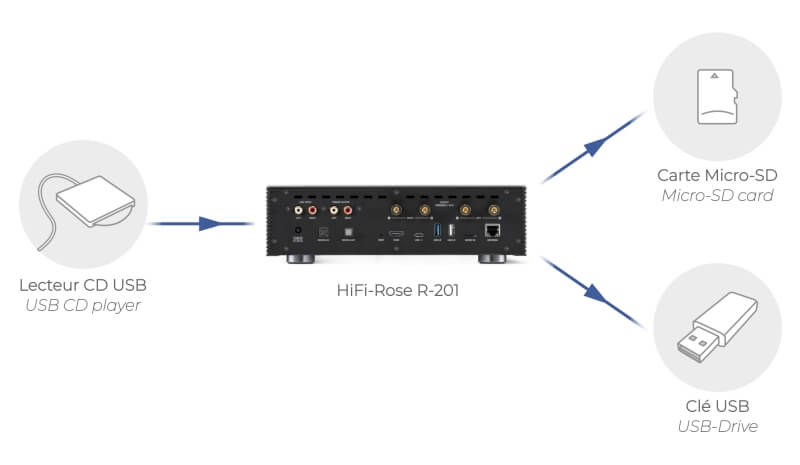 The integrated software is equipped with a CD ripping function very well thought to get digital tracks from a USB CD player.

This function provides digital files in CD quality (FLAC or WAV choice) on a USB drive, micro SD card or directly to the memory of an SSD (if such equipment was previously installed).

The R-201 automatically connects to the net to retrieve all the metadata or allows you to input it yourself if no network is available.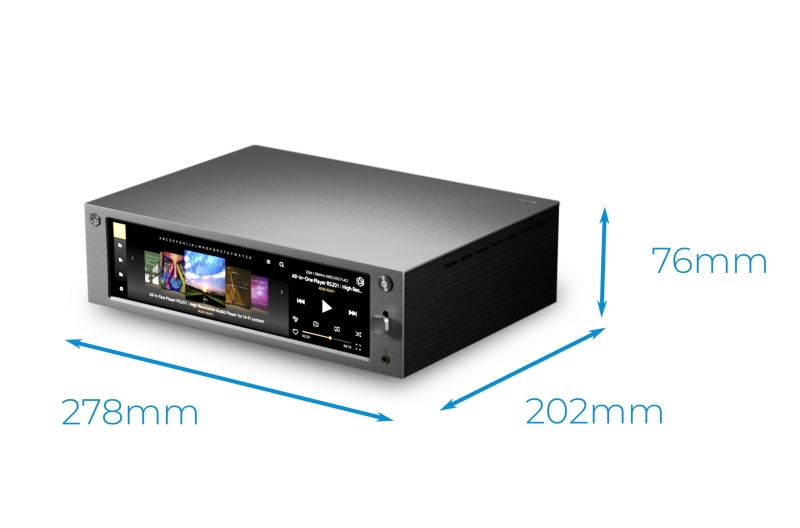 Roon Ready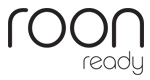 The Rose RS201 is, thanks to its latest update, Roon Read. This means that it is possible to use Roon and enjoy the many features of this high-resolution playback solution. Roon scans your entire music library and adds information such as photos, biographies, reviews, lyrics, concert dates, and makes connections between each item to make recommendations. Roon is very complete and offers a myriad of features that will allow you to enjoy your music to the fullest.
SPECIFICATIONS
Operating system
Android 7.0 (nougat)
Dimensions
278 x 202 x 76 mm
Weight
2.32 kg
Viewing
Widescreen 8.8 inches
Touch (multi touch)
max
100W into 8 ohm
80W RMS
HP supported Impedance
4-16 ohm
digital inputs
WiFi (802.11 b / g / n / a / ac) 2.4GHz / 5GHz
Bluetooth 4.0 (AD2DP SINK, AVRCP)
AirPlay / DLNA / DIAL Service
Optical
USB-A 2.0 (NTFS / FAT32 / 4TB)
USB-A 3.0
Micro-SD (NTFS / FAT32 / 4TB)
SSD (SATA)
Ethernet 10/100/1000 BASE-T
USB OTG-C: FOR UPDATES FIRMWARE ONLY
Analog inputs
Line In (RCA)
digital outputs
HDMI (video & audio)
Optical SPDIF (audio)
Analog outputs
Headphone output (3.5mm)
preamp output (RCA)
speaker terminals (L + / L-, R + / R-)
Output Level
Pre Out: 3Vrms
Headphones: 1Vrms
Supported audio formats
WAV, FLAC, WMA, MP3, APE, DFF, DSF, AAC, CDA, AMR, EC3, E-EC3, MID, MPL, MP2, MPC, MPGA, M4A
PCM: 8kHz-384kHz (8/16/24 / 32bit)
DSD (Native) DSD64, DSD128, DSD256 (11.2MHz)
Supported video formats
ASF, AVI, MKV, MP4, WMV, MPEG-1, MPEG-2, MPEG-4, H.263, H.264, H.265, VC-1, VP8, VP9, ​​MVC
H.264 / AVC, Base / Main / High / High10 profile@level5.1 up 4Kx2K @ 30fps
H.265 / HEVC Main / Main10 Profile @ Level 5.1 High-tier to 4Kx2K @ 60fps
Supply (incoming)
100-240 VAC, 50 / 60Hz
Outbound feed)
DC 24V 5.0A
Quiescent
<0.5W
Remote control
Yes (Bluetooth remote control)
App
Rose Audio app
Support Tidal