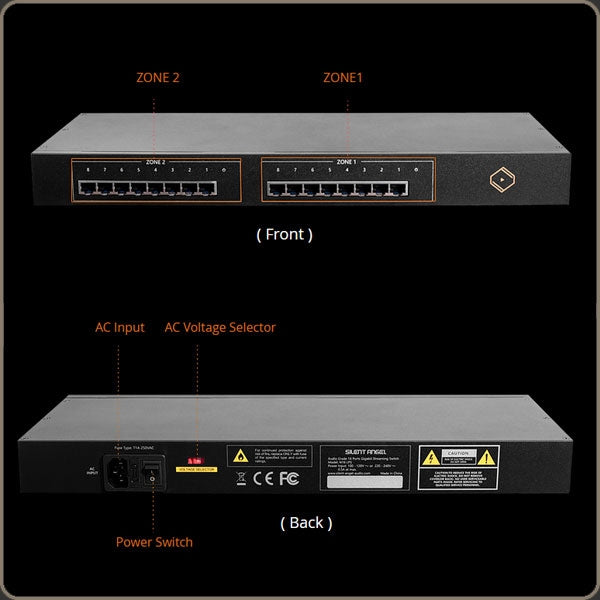 Linear Powered 16 Ports Audiophile Switch with Zone Isolations
Regular price
$1,899.00
Sale price
$1,200.00
---
Two Isolated Zone for Network Traffic Isolation
N16 LPS has two isolated zones for network traffic isolation. Physical isolation avoid ethernet traffic intereference,so that the most critical audio player to get rids of unwanted network traffic.
Silent Angel Forester Technology Inside
To have stable, low noise, fast response power source, N16 LPS is equipped with Silent Angel Forester linear power module. By using fully symmetric circuit (in both transformer and circuit), this Forester linear power module provides two isolated power sources, that meets the high frequency loading nature of switch circuit and clock circuit, feeding two separated 8 port switch modules.
Isolated Silent Angel TCXO Modules
N16 LPS isolates the clock source for each network zone. It has two well-powered TCXO modules for two isolated network zones, so that the TCXO can get rids of the power noise from switch circuit.
Flexible Mounting Options
With included rack mount brackets, N16 LPS can be mounted to a 19inch rack and consume 1U in height. Or you can use the included rubber pad to place N16 LPS on a flat and solid surface.
There are two typical scenario for N16 LPS to fit in your network environment:
1 - Fully isolated zones.
2 - Two zones in series.

Specifications
- Dimensions: 441mm (W) x 166mm (D) x 44.1mm (H)
- Device Weight: 3KG
- Input: 230VAC or 115VAC 50/60Hz (with voltage selector)
- Power LED:Green light on when power is on.
- LINK / ACT LED:Light on when port is linked up, flashes when active.
- Green: 1000 Mbps
- Amber: 100 Mbps
Accessories
- IEC Type AC Power Cord *1
- Ethernet Cable *1
- Mounting Brackets *2
- Bracket Screws *8
- Rubber Feet *4
- Quick Start Guide *1
- Warranty Card *1
N16 LPS_Product Information
---